In recent years, the EU Commission has started to recognise the importance of  social sciences and humanities (SSH) research in addressing societal challenges.
SSH encompass a wide range of disciplines such as sociology and economics, psychology and political science, history and cultural sciences, law and ethics. We are pleased that the EU Commission has begun to recognise that contributions from these research fields are needed to generate new knowledge, support evidence-based policymaking, develop key competences and produce interdisciplinary solutions to both societal and technological issues.
SSH give EU citizens a unique opportunity to understand their past, current and future environment, and to propose answers to complex and challenging questions. 
Communication of SSH research results is crucial for ensuring impact on policy-making as well as for informing the broader public. Communication helps ensuring that SSH research not only has an academic outreach but reaches a wider audience and is communicated in ways that match the variety of audiences, needs and contexts. Translating research findings into clear recommendations to policy makers is thus an important part of EU funded social sciences and humanities projects. And it is a key element of our work REVALORISE+.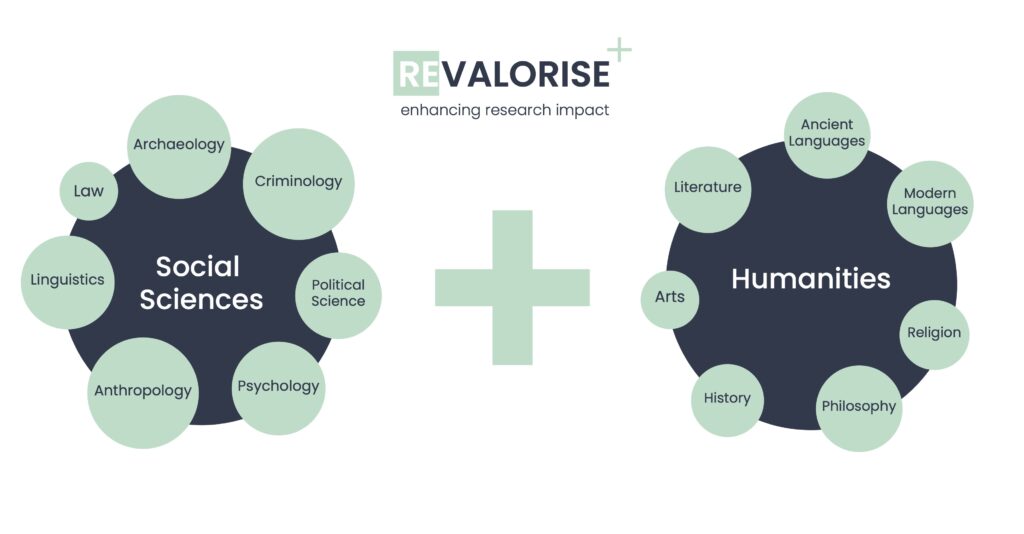 Social sciences, education, business and law
Social and behavioural sciences: economics, economic history, political science, sociology, demography, anthropology (except physical anthropology), ethnology, futurology, psychology, geography (except physical geography), peace and conflict studies, human rights.
Education science: curriculum development in non-vocational and vocational subjects, educational policy and assessment, educational research.
Journalism and information: journalism, library and museum sciences, documentation techniques, archival sciences.
Business and administration: retailing, marketing, sales, public relations, real estate, finance, banking, insurance, investment analysis, accounting, auditing, management, public and institutional administration.
Law: law, jurisprudence, history of law.
Humanities: religion and theology, foreign languages and cultures, living or dead languages and their literature, area studies, native languages, current or vernacular language and its literature, interpretation and translation, linguistics, comparative literature, history, archaeology, philosophy, ethics.
Arts: fine arts, performing arts, graphic and audio-visual arts, design, crafts.
The list is adapted from the UNESCO International Standard Classification of Education (ISCED 2011).